Shared Ownership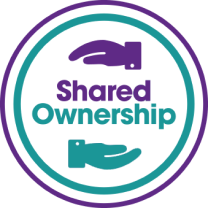 Struggling to afford a new home? Find out about Shared Ownership - a government scheme that allows you to buy a share of a property and pay rent on the rest.
Shared Ownership at a glance
Deposit needed
Minimum 5% of the share of the property you're buying.
Ownership
Part-buy, part-rent.
Household income required
Less than £80,000 (£90,000 in London).
Availability
England only. See other schemes in Scotland, Wales and Northern Ireland.
What is Shared Ownership?
Shared Ownership is a government scheme that offers you the chance to buy a share of a property from a housing association, a non-profit-making body that provides homes.
Because you only own a part of the property, you can buy it with a smaller deposit and mortgage. A smaller mortgage means smaller repayments but you'll also need to pay:
rent on the share of the property you do not yet own

monthly service charges

ground rent.
Shared Ownership homes can be new builds, existing properties, houses or flats. All Shared Ownership properties are leasehold, even houses, which is unusual.
To be eligible for Shared Ownership you need to:
be a first-time buyer, an existing shared ownership homeowner, or a former homeowner who can't afford to buy now

be over 18 years old

have an annual household income of less than £80,000 (£90,000 in London).
Shared Ownership is one of a number of schemes available to help you buy a home. Others include Help to Buy, where the government loans you up to 20% of the property value (rising to 40% in London).
How does Shared Ownership work?
When you buy a Shared Ownership home, you decide what stake in the property you can afford to buy from the housing association.
You put down a deposit of at least 5% of your stake and take out a mortgage to cover the rest. You then pay rent on the part you do not own.
You can increase the share you own in the property, through a process known as staircasing, until you own 75% of the property, or in some cases 100%. Not all housing associations let you get to 100%, so be sure to check first. 
There's a legal cost every time you staircase so it may make sense to buy bigger chunks. Plus, some housing associations have a limit on how many times you can do it. 
The government announced a new version of Shared Ownership in April 2021, but it won't be available on homes for sale until 2022 (with a limited number available before then).
The best way to check if a home qualifies for the new version is to ask the provider when you make an enquiry. 
Head hurting? Yes, us too.
Shared Ownership pros and cons
You could buy sooner because of the smaller deposit and mortgage

It's more affordable for those on a lower income

You can increase your share in the property as and when you can afford it

It's available on new-build homes and existing properties
Shared Ownership properties are leasehold, rather than freehold, so you will not own the land the property is on

You have to pay service charge that comes with the property regardless of how big your stake is. You may have to pay ground rent too

When you come to sell, you may have to do it through the Shared Ownership scheme rather than on the open market

Buying more of the property over time comes at a cost
Find Shared Ownership properties for sale
How the existing Shared Ownership scheme compares with the new version
| | | |
| --- | --- | --- |
| | Shared Ownership available on homes until 2023 | NEW Shared Ownership available on homes from 2022 |
| Minimum deposit | 5% of your share in the property | 5% of your share in the property |
| Minimum share of property for sale | 25% | 10% |
| Minimum 'staircasing' | 10% share each year | 1% share each year, with reduced fees |
| Who covers repairs | You are responsible for carrying out repairs | You receive support from your landlord for essential repairs for 10 years |
| Exclusivity period for landlord to sell | 8 weeks | 4 to 8 weeks |
How Shared Ownership compares with Help to Buy
| | | |
| --- | --- | --- |
| Buying scheme | Help to Buy: Equity Loan | Shared Ownership |
| Overview | Helps first-time buyers in England purchase a new-build home. Regional price caps are in place. | Allows buyers in England to buy part of a property and pay rent on the rest. |
| Benefits | Allows you to buy a new-build home with a small deposit. | Enables you to buy a share of a property with a small deposit. |
| Deposit | At least 5% of the property value. The government tops this up with a loan of up to 20% of the property value (40% in London). | At least 5% of your share of the property. |
| Requirements | You need to provide 80% of the property value (60% in London) in total. For example, with a 5% deposit and a 75% LTV mortgage. | Your annual household income must be less than £80,000 (£90,000 in London). |
| Ownership | Full ownership once your loan from the government and mortgage have been repaid. | Own up to 75% of the property value once your mortgage has been repaid. You can build this share up gradually. |